Papa Denny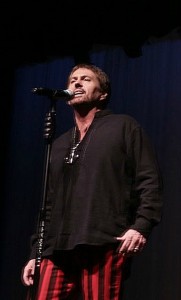 Mike Butler handles the bulk of the male lead vocals for the Soundtrack to the 60's show. Born and raised in the Northeast Ohio area near Cleveland, Mike and his family migrated to Las Vegas in the early 1990's, where he is known for his accurate re-creations of Classic Rock's biggest hits. He has performed at The Stardust, Golden Nugget, Imperial Palace, Tropicana and House of Blues.
"I can remember the Beatles appearence on the Ed Sullivan show like it was yesterday." Mike continues, "I really enjoy the harmonies of the 60's hits and when I look out to the audience and see all those smiling faces singing along,  it's obvious they do too!"
Mike is married to childhood sweetheart Sharon and when not performing enjoys playing with his two Boston Terriors (Pete & Lillie) and grandkids Skylee & Brenden.